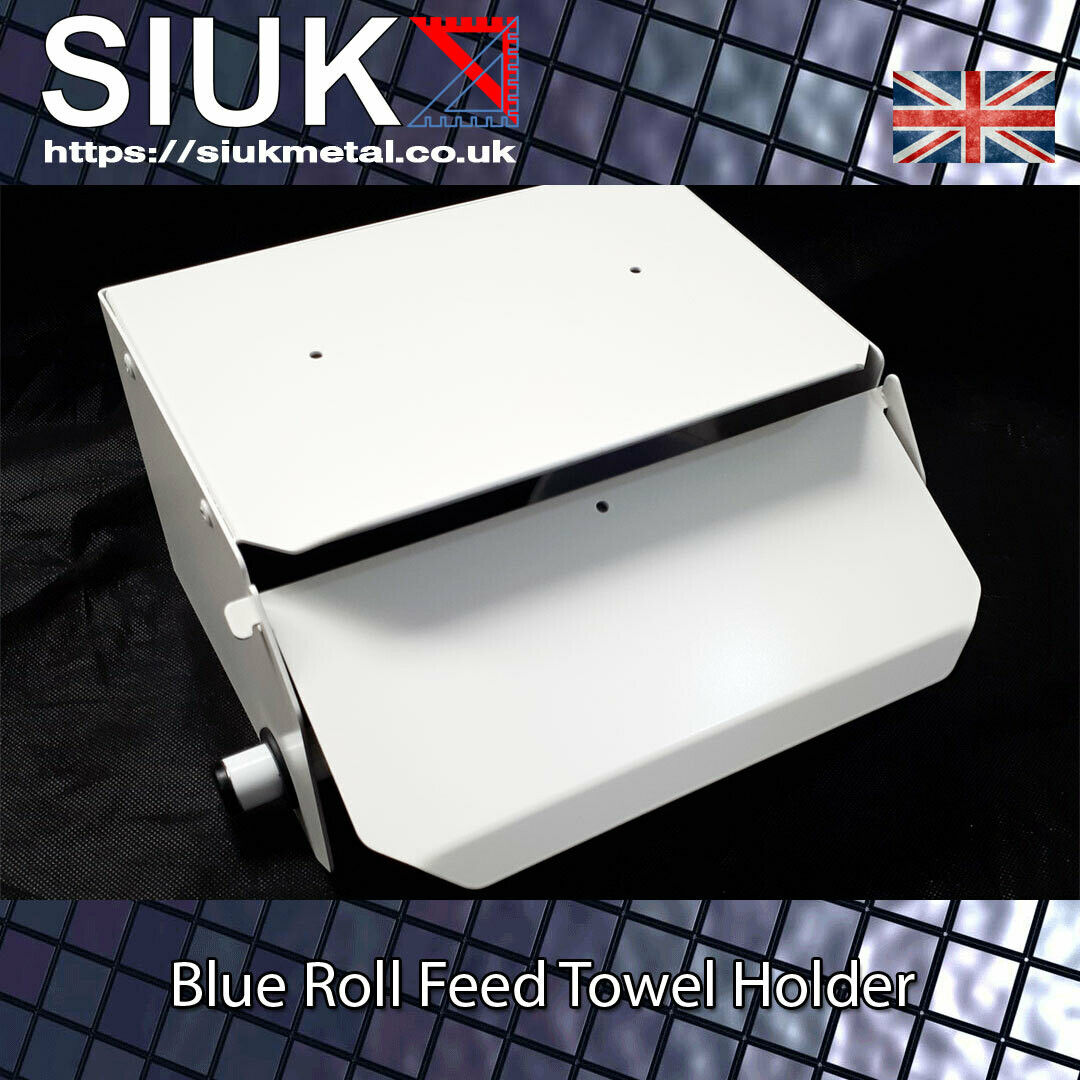 Blue Paper Towel Dispenser Roll Feed Holder Wall Mount with Flap
SKU SIUK0006
Product Details
Blue Paper Towel Dispenser, Roll Feed Paper Towel Holder, Wall Mountable with Front Flap and Shelf.


These literally fly off our shelves, proven to be extremely popular and now our best seller. Finished in a white matt powder coat, easy to wipe clean and looks smart in any environment.


Now compatible with our single latex glove box holders, which can be fixed to the top.
Customer Comment "Superb paper towel dispenser. Thanks very much."
Nov 2019

These look great in any location where you need paper towels for clean up. From mobile vans to workshops, nail bars to kitchens, barber shops to clinics.
Aluminium, rust proof & recyclable, roll feed paper towel holder. Across our range, we use a form of aluminium alloy that is highly resistant to chemical corrosion, making it ideal for many environments.
Sized for the standard industrial blue roll paper towel, that are approx 215mm wide x 200mm diameter
. This design includes a top shelf with lip, as storage. Will take the larger 220mm wide towels also available.
The latest addition of a plastic grommet around the towel rail hole, improves roll holding.
The units themselves are approximately 225mm wide (excluding rod) x 150mm tall.
A full rear back panel inside, not only makes it easy to wall mount or van mount, but also gives it extra strength. To the front is a drip flap, that assists with tear off if required.

Paper towel roll is NOT included.




Save this product for later